When we started our alpaca farm I didn't know anything about yarn or knitting. I didn't understand the difference between a skein and a hank or DK and worsted. Since opening the farm, I've had a crash course in harvesting, processing, and preparing yarn for sale.
Prior to my newfound education, I thought a skein of yarn was just yarn. I didn't understand weight classes, wraps per inch, or how micron counts fit into it all. I assumed a pair of mittens or a blanket could be made from any yarn available. Thankfully, I know better and I'm doing my best to prepare our alpaca fiber for buyers.
While yarn weights, wraps per inch, ply count, and gauge measurements are all far from a precise science, all of these metrics play a critical role in a successful knitting project. The best pattern won't produce much if you have the wrong type of yarn or a poorly made skein of yarn.
Thankfully I now know the success of a knitting project depends on selecting and buying the right yarn weight. I also know there are standards for both terminology and labeling. Let's review all that I've learned.
Yarn Weight Standards & Terminology
Because the terms of yarn can be super confusing and subjective, a system of standards was created by the Craft Yarn Council of America. This system makes it possible for all buyers to better understand yarn options and substitute yarn products. The system uses a scale from 0 to 7, with 0 or lace being the finest yarn and 7 or jumbo being the largest.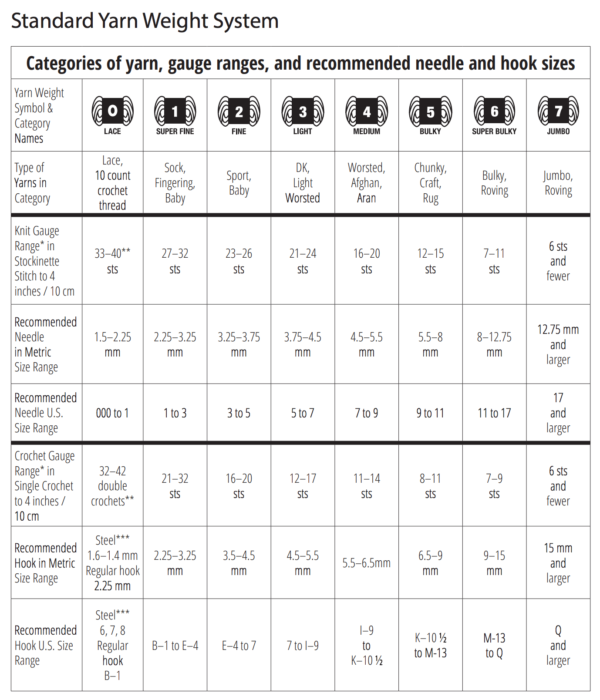 I automatically assumed thin was always best, but my new friends at the fiber mill quickly informed me this was not the case. Thin, lace-quality yarn cannot be used for many projects so it sits on the shelves for years. I learned fine (sport), light (DK), and medium (worsted) are in much higher demand because they offer a much more versatile yarn. So needless to say, we are producing skeins of alpaca yarn in a variety of fingering, DK, sport, and worsted weights.
Let's dive into all I've learned about yarn sales and usage!
Common Yarn Terminology
Weight Class – When you talk about a yarn's weight, it actually has very little to do with how heavy the yarn is when you pick it up or put it on a scale. Instead, yarn weight refers to the thickness of the yarn's strand. When purchasing yarn in an online alpaca store, you should always check the product description or the yarn label for the weight to determine the class or thickness. This will dictate what the yarn can be used for in knitting.
Here is an overview of yarn weight classes:
Lace – Lace yarn is very thin and it is often used to give a lacy appearance to shawls and the doilies that lay on top of end tables. View our lace yarn.
Superfine – Superfine yarn is lightweight and typically used for shawls, socks, or baby clothes. This is also referred to as fingering yarn. View our fingering yarn.
Fine – This is commonly referred to as sport yarn. It is a fine yarn that is very versatile. It is used to create products such as socks, wraps, and sweaters. View our sport yarn.
Light – This is commonly referred to as DK yarn. This weight of yarn is slightly heavier than a fine weight yarn and it is used to produce lightweight sweaters and shawls. View our DK yarn.
Medium – This weight of yarn is generally called worsted yarn and it is another frequently used weight. It is easy to work with, which makes it a great option for beginners. View our worsted yarn.
Bulky – Bulky yarn is generally twice as thick as a worsted weight and it is used for making sweaters, scarves, rugs, and throws. View our bulky yarn.
Super Bulky – This is called roving and it has a very unique look and feel. Roving is a thick yarn that is commonly used for scarves and hats.
Jumbo – Jumbo yarn is the thickest yarn weight and hasn't been on the market for many years. In all honesty, I'd had a hard time finding quality information about this weight.
Ply Count – Ply count refers to the number of plies in the yarn. An example of this would be 1 ply, 2 ply, or 3 ply. The ply count will influence how the yarn converts into a finished product, so this is something you want to carefully watch and consider.
Wraps Per Inch – To measure yarn in wraps per inch (or WPI) you will need a ruler and something to wrap the yarn around. This could be a pencil, straw, or something similar. What I've found is this number varies greatly from person to person, so take this metric lightly.
Microns – A micron is the measurement of the diameter of raw fiber. We pay very close attention to this in the alpaca industry, because micron count will heavily influence the fiber quality and softness. In the United States, alpaca fiber generally ranges from 15 microns to 25 microns. The fiber mill we use takes this into consideration and helps guide us in converting the right microns of alpaca fiber into the various types of alpaca yarn. Since some of our alpacas are babies and some older mothers, the microns vary a lot. The mill helps us match up the microns to yarn from lace all the way to roving bumps. Note that "baby alpaca" does not mean it comes from a cria (baby alpaca by age). This term is used to illustrate the micron level.
Skein – Yarn is typically sold in a ball, hank, or skein. A skein is similar to a ball but it is formed into an oblong shape. It's the shape most people think of when they think of yarn because it is the most common shape found in craft stores.
Handy Yarn Comparison Charts
I'm a data person and I like charts. Due to this, I created some handy cheatsheet charts to help keep me and you on track.
Huacaya Alpaca Fiber Grades
This chart will help you evaluate the quality of the yarn you purchase. Some of our yarn will be labeled "grade 1" or "royal alpaca" to help buyers know the quality of the yarn. Micron count alone is not enough to warrant quality. Characteristics like fiber uniformity, staple length, and comfort factor are also important. We have our fiber professionally tested and use histogram results to document the fiber's grade and guide us on usage.
| Huacaya Fiber Grade | Classification | Micron Count |
| --- | --- | --- |
| Grade A (Grade 0) | Ultra Royal | 10-16.9 Microns |
| Grade 1 | Royal Alpaca | 17-19.9 Microns |
| Grade 2 | Baby Alpaca | 20-22.9 Microns |
| Grade 3 | Fine or Superfine | 23-25.9 Microns |
| Grade 4 | | 26-28.9 Microns |
| Grade 5 | | 29-31.9 Microns |
Basic Yarn Metrics by Weight Class
This chart will help you keep the official yarn weight class IDs straight, while comparing them to standard yarn terminology and alpaca fiber microns.
| Weight Class ID | Name | Types of Yarn | Ply Count | Needle Size | Wraps Per Inch |
| --- | --- | --- | --- | --- | --- |
| 0 | Lace | Cobweb, Light Fingering | 2-3 Ply | 000-1 | 36-40 WPI |
| 1 | Super Fine | Sock, Baby, Fingering | 3-4 Ply | 1-3 | 24-30 WPI |
| 2 | Fine | Sport, Baby | 4 Ply | 3-5 | 12-24 WPI |
| 3 | Light | DK, Light Worsted | 8 Ply | 5-7 | 12-18 WPI |
| 4 | Medium | Worsted, Afgan, Aran | 10 Ply | 7-9 | 10-12 WPI |
| 5 | Bulky | Chunky, Craft, Rug | 12 Ply | 9-11 | 9-10 WPI |
| 6 | Super Bulky | Super Bukly, Roving | 14 Ply | 11-17 | 8 or Less |
| 7 | Jumbo | Jumbo | 15 Ply | 17+ | 1-4 WPI |
Yarn Usage by Weight Class
This chart will take the official year weight class and compare it to the finished product. This will help make sure you are ordering the right yarn weight class for your specific product.
| Weight Class ID | Weight Class Name | Types of Yarn | Yarn Usage by Class |
| --- | --- | --- | --- |
| 0 | Lace | Cobweb, Light Fingering | Lace |
| 1 | Super Fine | Sock, Baby, Fingering | Shawls, Scarves, Socks |
| 2 | Fine | Sport, Baby | Sweaters, Baby Clothes |
| 3 | Light | DK, Light Worsted | Sweaters, Lightweight Scarves |
| 4 | Medium | Worsted, Afgan, Aran | Sweaters, Blankets, Hats, Mittens |
| 5 | Bulky | Chunky, Craft, Rug | Rugs, Jackets, Blankets |
| 6 | Super Bulky | Super Bukly, Roving | Sweaters, Rugs, Heavy Blankets |
| 7 | Jumbo | Jumbo | Heavy Blankets, Rugs |
Yards of Yarn Needed Per Finished Product
This last chart will help you determine how much yarn you need to purchase for your finished product. Keep in mind that most skeins of alpaca yarn sold in the United States are about 200-350 yards. I have noticed some alpaca farms selling this at 100 yards, but this is rare.
| Weight Class | Name of Yarn | Hat | Scarf | Sock | Sweater | Baby Blanket | Regular Blanket |
| --- | --- | --- | --- | --- | --- | --- | --- |
| 1 - Super Fine | Fingering | 250-325 | 525-825 | 350-500 | 3375 | 1500-1625 | 3750-4125 |
| 2 - Fine | Sport | 250-325 | 450-625 | 300-450 | 1750-2625 | 1250-1500 | 350-3750 |
| 3 - Light | DK | 200-250 | 375-500 | 275-400 | 1500-2250 | 1125-1250 | 3000-3500 |
| 4 - Medium | Worsted | 200-225 | 375-500 | 275-375 | 1125-1625 | 1000-1125 | 2250-3125 |
| 5 - Bulky | Chunky | 125-200 | 250-375 | 250-350 | 950-1125 | 875-1000 | 2000-2250 |
| 6 - Super Bulky | Roving | 125-150 | 250-375 | 200-250 | 825-1125 | 750-875 | 1625-2000 |
| 7 - Jumbo | Jumbo | 30-60 | 125-200 | 175-200 | 825-1125 | 625-750 | 1375-1625 |
Alpaca Yarn FAQs
What is alpaca yarn good for?
Alpaca yarn can be used for lots of products from hats and mittens to sweaters, ponchos, and socks. In our alpaca store we sell a variety of items made of alpaca yarn that include hats, scarves, cowls, mittens, glittens, gloves, socks, sweaters, ponchos, shawls, and rugs. Our most popular items are socks, hats, and gloves.
What weight is alpaca yarn?
Alpaca yarn can come in all traditional yarn weights which include lace, fingering, sport, DK, worsted, and bulky. In our farm store, DK and worsted tend to be the most popular yarn weights.
What ply is alpaca yarn?
Alpaca yarn can be produced in all traditional yarn ply which includes single-ply, 2-ply, or 3-ply. In our store, we generally produce and sell 2-ply or 3-ply alpaca yarn.
What is baby alpaca yarn?
Contrary to what it sounds like, baby alpaca yarn does not necessarily come from a baby alpaca (also called a cria). Baby refers to the micron count and fineness of the alpaca fiber. Alpaca and fiber can be graded as royal, baby, and superfine or grade 1, grade 2, and grade 3. Royal is the softest of these mentioned, however, it can be slightly floppy since it is so fine. But make no mistake, raw royal alpaca fiber and royal alpaca yarn feel like butter. It is super software and luxurious. Baby alpaca feels wonderful as well and most consumers would not be able to tell the difference. As an alpaca farmer, I know the difference and I love the feel of royal alpaca.
Is alpaca yarn ethical?
This question is a big deal to me because there is a lot of confusion about the ethics of alpaca farming. While I cannot speak to alpaca farmers worldwide, I can speak to the usage and care of alpacas in the United States.
Alpacas must be shorn each year for their own welfare. They cannot survive throughout the summer heat without being sheared. We have a professional shearing team that comes from Montana to Michigan to shear our alpaca herd. I am personally with each alpaca as they are sheared. I am on the mat in the middle of fur and dirt so that I can make sure my alpaca is sheared with kindness and has a familiar, loving face to focus on during the few minutes they are being sheared.
Once the shearing is done the alpacas dance around in happiness because they feel light and fabulous. They quickly roll around in their new summer haircuts.
The entire shearing process is about five minutes per alpaca. It is done humanely and with care. I love my herd and I would have it no other way.
Most alpaca farms in the United States feel and operate the same. We invest in our farms financially and emotionally. We would never allow ill-treatment of our alpaca.
How many skeins of yarn come from one alpaca?
This is a loaded question!
The answer is a calculation based on the amount of usable fiber harvested and the yarn weight, ply, and yards within the skein produced.
Each alpaca has a different amount of fiber based on its fiber length and density. Our pint-size Dolly is a top fiber producer on our farm because she is very dense. On the flip side, we have a large alpaca named Tribute who has a lot of fiber coverage, but it isn't as dense as Dolly, so he'll actually produce less fiber. The more fiber we shear off an alpaca, the more skeins of yarn that can be produced.
An adult alpaca weighing about 150 pounds will produce about 5-10 pounds of fiber that could be converted into yarn. A standard alpaca produces approximately 4 pounds of high-quality fiber (we call these firsts) and an equal amount of coarser fiber (we call these seconds and thirds).
Nibbler is a female alpaca on our farm that is a strong fiber producer. She has solid density and amazing staple length. Last year she produced 5 pounds of firsts. This was sent to the mill for skirting, washing, and finishing. Nibbler's 5 pounds of incoming fiber was reduced slightly after the cleaning process, but it still produced 16 skeins of 2-ply worsted yarn that was 200 yards long.
So, in this example, one alpaca produced 16 skeins of yarn.
Where can you buy alpaca yarn?
You can purchase alpaca yarn at local alpaca farms, marketplaces like Etsy, or large retail stores like Hobby Lobby.
I would caution you on purchasing from big box retailers, and if you do, look very closely at the materials used. You'll find a very low percentage of alpaca fiber in the yarn they call alpaca.
The yarn we sell in our retail store and website is almost all 100% alpaca. We have a few select skeins that have another material mixed in, but these are few and far between.
How much is alpaca yarn?
The price of alpaca yarn will vary based on the quality (softness), percentage of alpaca used, and method of production (hand spun, micro mill produced, or mass processed).
Our alpaca yarn skeins typically sell between $15-$30 with most in the mid $20s.
Why is alpaca yarn so expensive?
Let's break down the cost to produce alpaca yarn and this will answer that question.
Cost to feed, care for, and shear an alpaca per year = $200
Cost to process raw alpaca fiber into yarn = $9
Note that we process each alpaca's fiber separately in small batches at a small mill. This increases the production cost and it is far more than producing yarn from 500 alpacas all together at a large commercial mill.
Using Nibbler's example above, her alpaca yarn would cost a total of $21.50 per skein. That does not include the cost to buy the alpaca itself or the cost of shipping raw fiber or finished yarn to and from the mill.
I sell Nibbler's yarn on our website for $26 per skein. That leaves a profit of $4.50 per skein before I pay for credit card fees for the sale.
Now you might think that isn't a lot of profit, however, we don't view it that way. Nibbler is great at agritourism and she is my favorite girl who makes me very happy. So Nibbler has additional economic and emotional value to us.
All of these factors go into how we price our yarn. But know this, the cost of alpaca yarn is valid and alpaca farms are not overcharging you. If anything, they are undercharging.
Why do I find vegetation in my alpaca yarn?
I love this question because the answer is so simple. Alpaca yarn is organic and it comes from living animals who have a life! The alpacas roam free in the paddock and they love to roll In the grass or straw. This grass or straw (referred to as vegetation) gets stuck in its fiber. And while the mill does skirt and wash the raw fiber, some "stuff" remains and must be picked out manually. The younger the alpaca, the more vegetation present.
The alternative is to buy yarn that is made from chemicals like acrylic. That won't have any vegetation because it is processed from chemicals and it isn't organic.
How do you wash alpaca yarn?
Alpaca yarn can be hand washed in cold water and laid flat to dry.
Warning Message for Buying Alpaca Yarn
One thing I've noticed is a large inconsistency in the labeling of alpaca yarn. While the United States government does have specific acts to help guard against mislabeling, issues still exist. I doubt most alpaca farms even know such legislation exists, which makes it difficult to expect them to follow it. This means the product descriptions and labels you find will be inconsistent and sometimes incomplete.
Before buying any alpaca yarn, make sure your label and product description clearly list:
Percentage of alpaca fiber to non-alpaca fiber – 100% alpaca or 90% alpaca and 10% bamboo
Level of alpaca quality – regular alpaca fiber, baby alpaca, royal alpaca, or superfine alpaca
Weight class – sport, DK, worsted, roving, etc.
Ply count
Yards per skein
Now that I'm well integrated into the alpaca industry I find yarn and alpaca products without the correct labeling and descriptions.
The bottom line is if alpaca yarn looks too cheap or inexpensive for the quality, it probably is not what you think it is and you need to buy alternate alpaca yarn. This is because you're probably purchasing something that is 20% alpaca and 80% something else, instead of the 100% alpaca you assume.
Giving Alpaca Yarn as Gifts
We have a lot of people who come into our farm store wanting to give a friend or loved one alpaca yarn. The thought it lovely and it is a wonderful gesture. The issue is they don't know what weight to purchase and they don't know how much yarn to buy.
My suggestions for this situation are:
Think about what your receiver typically knits or crochets. This will help you narrow in on the weight and amount to buy.
Use our above charts to calculate the preferred weight and amount based on the intended use. For example, a knit hat in alpaca may only need one skein of worsted yarn.
If you don't have knowledge of their intended usage, opt for worsted or DK weight. Those are safe options that can be used by both experienced and novice knitters.
If you're not sure about the amount needed, go more than less. Our yarn is all made in small batches and we have a limited supply of each batch because they come from individual animals. You're better off over buying that under buying on a skein they cannot duplicate.
Keep an Eye on Our Online Store
We've sent all of our 2022 fiber to the mill and it is currently being processed into yarn. We have some yarn from 2020 and 2021 left, but the farm favorites (like fancy Leviticus) always sell out quickly.
Cottage mills that process alpaca fiber are always full, so we do have delays in processing. It is the downside of running small batches by individual alpaca. But in my mind, it is worth it. I love looking at a skein of DK, sport, fingering, and worsted yarn and knowing it came from a specific alpaca. It amplifies the beauty of the yarn and my love for farming.