Summary of Alpaca Acquisition Cost
Everyone who asks us about alpaca farming wants to know about the investment costs and the revenue opportunities. The revenue opportunities vary greatly from farm to farm, however, the initial alpaca cost and the expense of ongoing care are fairly consistent.
The largest variation you'll find in the cost of alpaca care and ownership is the quality of alpacas you purchase. You have to decide if you want pet quality, hobby farm quality, or show quality animals. This will significantly influence your purchase price, source of alpaca sales, and the criteria by which you'll select the animals.
While overall alpaca costs can range between $250 – $50,000 per animal, the cost of most alpacas will fall between $3,000 – $10,000 per alpaca. You will find these costs vary based on age, conformation, fiber quality, lineage, facial appearance, and personality. The higher the quality of all of those elements, the higher the demand and the higher the cost of the alpaca.
Supply and Demand Influence
Those alpaca prices can seem very high to those new to the industry, but the cost structure is justified when you consider the uniqueness of birthing and raising alpacas. Supply and demand (basic economic concepts) greatly influence the cost and sale price of alpacas.
The cost of alpaca acquisition is higher than many livestock because they are unlike other farm animals. Here are just a few of the nuances that make the initial cost of alpaca ownership as high as it is:
Alpacas were first imported into the United States in 1984, so they have not been in the US all that long. That means the availability is not the same as other livestock.
The majority of the world's alpaca population lives in Peru. The importation of alpacas from Peru is no longer allowed. Local farmers can only import alpacas from Australia and Canada, which greatly reduces the availability of alpacas and this is especially true of high-quality alpacas.
The alpaca reproduction cycle is not like most livestock. Their reproductive process is not conducive to artificial insemination, which makes natural alpaca pregnancies the only option.
Alpacas are pregnant for almost an entire year and most breeders in the midwest only breed in spring and summer months. This makes the opportunity for breeding more limited than other animals.
Alpacas only have one cria per pregnancy. Twins occur occasionally, but it is very difficult to get both crias through a healthy delivery. Therefore one mother can only deliver one cria per year.
If one does not have their own herdsire (adult male), they must pay another farm for breedings. Quality breedings will cost between $3,000 – $5,000 per cria.
Note: Suri alpacas have much less supply than Huacaya alpacas, so these will come at a premium price within the United States. The alpaca industry is dominated by Huacaya alpacas, so there is more supply and thus they are not as expensive as Suris.
Alpaca Revenue Opportunities
While I just covered all the negatives to raising alpacas, there are many benefits. And these benefits tie into business plans and the opportunities of obtaining a solid return on investment. These include:
Alpacas have multiple revenue streams that include:

Raw fiber sales
Sale of actual alpacas
Manure sales (the manure is high quality and serves as organic fertilizer)
Meat sales
Sales of services related to alpacas

Alpacas live around 20 years, which means your initial investment has many years to pay itself back
Alpacas do not cost a lot to feed
Alpacas are low maintenance, which makes them easy to care for
Alpacas are eco-friendly and sustainable for the environment
One female alpaca can give birth to 10+ cria, which makes her revenue-generating opportunities ten times her purchase price
Now that we've broken down the pros and cons of investing in alpacas, let's chat more about the individual costs associated with the different types of alpacas. I'll break down the various types of alpacas and then we'll dig deeper into the startup and ongoing costs associated with raising alpacas.
Alpaca Quality Compared to Purchase Cost
Pet Alpacas
A pet quality alpaca will be just that – purchased for the purpose of love and entertainment. A pet alpaca will be very inexpensive, however, you won't have a lot of options for breeding, selling the alpaca for profit, or using the alpaca fiber for the production of yarn and products. Pet quality alpacas can be purchased for as little as $250 each and up to $2,000 each, with a general cost of about $500 – $1,000 each.
When looking for pet alpacas make sure you consider the look of the alpaca, the friendliness of the alpaca, the quality of the breeder, and overall animal health. Not all alpaca farms, breeders, or animals offer the same quality for "pets", so look around and visit a number of farms.
Hobby Farm Alpacas (Fiber Alpacas)
A hobby farm alpaca is one that is above pet quality, but not quite to show quality. This type of alpaca will be more expensive ($2,000 – $5,000), but it will come with better conformation and higher quality fiber. Having this level of quality opens up your alpaca farm to revenue. You'll be able to breed the alpaca, sell the offspring, and produce quality yarn and alpaca products for sale.
Educate yourself on alpaca conformation prior to purchase, as you'll need to be able to ascertain genetics and the possibility of birth defects. Carefully consider the animal's age, existing offspring, conformation, and health prior to purchase.
Show Quality Alpacas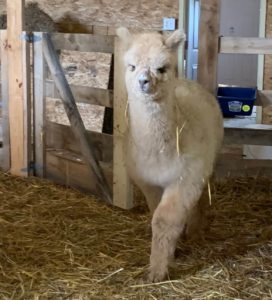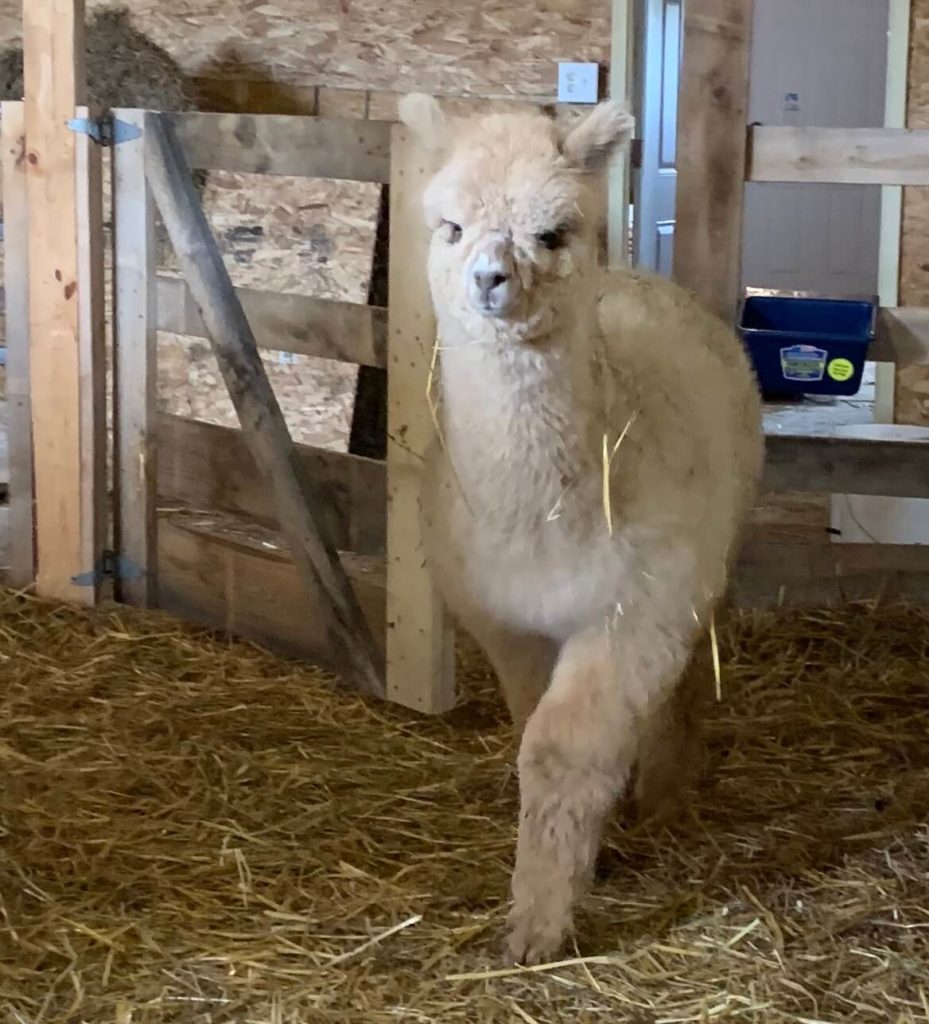 A show quality alpaca takes you into a whole new level of investment and purchase decisions. Your investment per alpaca will begin at a minimum of $5,000 and will run up to about $20,000 per animal. Some recent sales have been around $50,000 per alpaca with the highest record sales at $675,000. The record high price was for Snowmass Matrix, who was a 20+ champion and first place winner. You'll see this Matrix's genetics in many top herdsires including our own Romeo and Captain America.
Conformation, esthetics, color, and fiber quality will be key decision criteria if you wish to show alpacas and win the coveted blue ribbons and banners. Fiber animals need to have strong EPD scores and fiber histograms should be closely reviewed.
Decision criteria within alpaca conformation include:
Bite
Ears
Front and rear legs
Body score
Tail
Body capacity
Overall balance and proportion
Movement
Testicles and Genitalia
Decision criteria within Huacya alpaca fiber quality include:
Fineness
Density
Fleece weight
Staple length
Uniformity
Lack of guard hair
Crimp
Handle
Uniformity
Now that you know what to consider when selecting alpacas for sales, let's move onto overall cost of ownership.
Breakdown of Alpaca Investments and Costs
When we first started in alpaca farming, we didn't fully understand the cost of acquiring and raising alpacas. We had a decent grasp on the cost of the actual alpaca purchase, but we didn't understand the "things" we'd need to purchase along the way. But with the help of books and other alpaca farms, we quickly figured it out and our alpacas live in a nice comfy "diva barn" and they have plenty of space to roam. We're still working on the roaming part because it appears, alpacas can never have enough grass to snack on.
One-Time Alpaca Purchase Cost
Item and/or Service
Pet Quality
Cost of Investment
Hobby Farm Quality
Cost of Investment
Show Quality
Cost of Investment
Purchase Price of Three Alpacas
$3,000
$6,000
$20,000
Alpaca Registration
$165
$165
Included in Above
Bovine Viral Diarrhea Virus (BVDV) Test
$75
$75
$75
Fecal Test
$105
$105
$105
Total Cost for Three Alpacas
$3,345
$6,345
$20,180
My husband has done a great job tracking costs, possible revenue streams, and maintaining a business plan for the farm. Knowing your total ongoing cost of ownership is important because you cannot formulate a business plan without it. Keep in mind the ongoing costs do not include breedings. If you are going the show route, you'll need to purchase breedings from high-quality herdsires.
Ongoing Cost of Alpaca Farming
We have removed sawdust and hay from our ongoing usage and costs. This drops the estimated annual cost to $312 per alpaca. After further cost-cutting, our actual annual costs per alpaca end up being about $250.
Item and/or Service
Single Alpaca
Annual Maintenance Cost
Three Alpacas
Annual Maintenance Cost
Shearing
$35
$105
Vaccinations
$20
$60
Food - Hay
$100
$300
Food - Grain
$120
$360
Free Range Minerals
$35
$105
Straw for Bedding
$22
$66
Onsite Health Check with Licensed Vet
$37
$37
Total Annual Cost Per Alpaca
$369
$1,107
The startup costs were another area where we went astray. We understood the barn and fencing, but we lost track of vaccines and vitamins. We also didn't account for Dolly's ultra-dense fiber that would need to be touched up between shearings. All in all, we were not that far off and I'd say our total alpaca startup costs have been close to what we expected.
Startup Costs for an Alpaca Farm
| Item to Purchase | Startup Investment Cost |
| --- | --- |
| Fencing for 600 Feet of Coverage | $2,500 |
| Heated Water Buckets - Qty 2 | $45 |
| Hair Clippers | $37 |
| Nail Clippers | $25 |
| Stall Mats for 192 Feet - Used for Cement Floors | $252 |
| Halter and Lead | $30 |
| Vaccines - Clostridium Perfringes Types C&D (CD&T) | $15 |
| Ivomec or Dectomax Dewormer | $68 |
| A&D Injectable Vitamins | $19 |
| Bo-Se Injectible Selenium and Vitamin E | $30 |
| Needles for Injections - 100 Count | $20 |
| Total Startup Costs Per Alpaca Farm | $3,041 |
If you are just starting up an alpaca farm you want to do as much research as possible. You can find a lot of good information from the Alpaca Owners Association, books specific to alpacas, and from the farms you visit. Most alpaca farms will welcome visitors and they'll be happy to spend time answering your questions.
Product Resources and Links
tractorsupply.com/tsc/product/farm-innovators-18-qt-heated-flat-back-rubber-bucket?cm_vc=-10005
tractorsupply.com/tsc/product/producers-pride-burgon-ball-sheep-shears?solr=1&cm_vc=-10005
tractorsupply.com/tsc/product/producers-pride-burgon-ball-eze-trim-foot-trimmer-with-adjustable-tension?cm_vc=-10005
tractorsupply.com/tsc/product/4-ft-x-6-ft-x-3-4-in-thick-rubber-stall-mat?cm_vc=-10005
useful-items.com/category-s/157.htm
useful-items.com/product-p/081-50.htm
useful-items.com/product-p/083d.htm
useful-items.com/product-p/082h.htm
useful-items.com/product-p/092-03.htm