Everyone Struggles With Gift Giving
If you're like most businesses, selecting corporate gifts for employees and clients can be a daunting task. Whether you're looking to thank your staff for their hard work or show appreciation to your customers for their loyalty, finding the perfect present can feel completely overwhelming.
The good news is it doesn't have to be a challenging effort year and year. We'd like to help alleviate the burden of gift giving and we'd like to make sure you give your employees and clients something they will cherish and actually use.
We encourage you to skip the boring corporate gifts of branded mugs and shirts. Those presents will just sit in a closet or cupboard and go unused. Instead, we want you to surprise people with the thoughtful gift of alpaca.
Give the Gift of Alpaca
Alpaca products make the perfect corporate gift for both employees and clients. Alpaca gifts are eco-friendly items that come from sustainable farming efforts and they support small businesses throughout the United States. Whether you've selected a warm and snuggly alpaca throw or a soft and toasty pair of alpaca socks, you'll support a local business and you'll show you cared enough to give something unique.
Our alpaca farm store has a plentiful selection of top gift items that include dryer balls, alpaca blankets, alpaca pillows, alpaca socks, beautiful brushed scarves, or cute needle felted alpaca ornaments.
We produce a variety of our own products that come straight from our herd of 50 alpacas. Each year a professional team of shearers travel to Michigan from Montana to quickly shear our alpacas and do so in a manner that emotionally and physically supports the alpaca's well-being. The process takes about five minutes and their human momma is with them every second to make sure they are treated well and know they are loved.
We also have relationships with manufacturers that produce even more items made from 100% alpaca fiber. These manufacturers include United States based rug makers and sock producers, as well as, Peruvian artisans who continue the generational practice of handmade goods. Peruvian goods are certified for the ethical treatment of both employees and alpaca.
Corporate Gift Bags, Baskets, or Carefully Wrapped Presents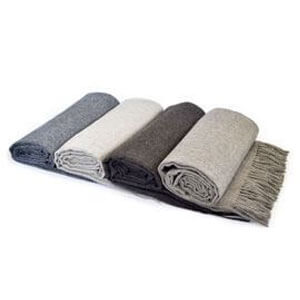 We're a small, family-owned business that will give your business the special attention it needs to find unique gifts to satisfy even the pickiest people. We'll even wrap the gifts and mail them directly to your staff and clients if desired.
Bring us your preferred budget, give us a description of your employees or clients, and we'll suggest gift ideas that will be crowd pleasers. From simple gifts to luxury items, we will help you find the right holiday gifts your business will be proud of gifting.
Just reach out to us to get started.