As we move out of summer and into fall, more and more farm store visitors are purchasing Christmas gifts. In preparation for the crazy Christmas shopping season, I'm already stocking up on our hottest alpaca products so I can keep up with the demand.
How do you know what makes a great alpaca gift? I approach this question three ways:
Top selling alpaca gifts
Gifts by gender, age, or personality type
Gifts by medical condition
In today's buying guide, I'll walk you through my favorite alpaca gifts and break the recommendations out so you can use the guide to purchase online or at your local alpaca farm store. I'll cover a variety of personality types and offer some gift ideas for each. Keep in mind, many of these sections can overlap.
Babysitter
When babysitters walk into our farm store they immediately pick up the finger puppets. I love this because it is a gift for the babysitter and the children they watch. Another popular item is the alpaca head keychains. Who am I kidding? These keychains are the most popular items in the store! T-shirts and magnets round out my suggestions for babysitter gifts.
Boyfriend or Husband
I enjoy watching boyfriends and husbands browse the store. I expected the men to always browse through the beanies, alpaca-lined leather gloves, and heavy socks, but they always surprise me. Men also are big fans of woven alpaca scarves and sweaters.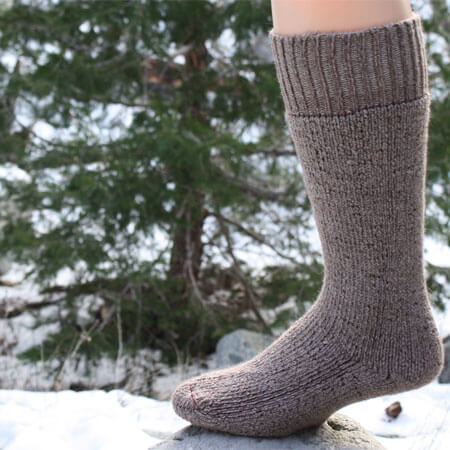 College Student
Backpacks, glittens, and warm alpaca hats would be my gift recommendation for college students. These alpaca gifts mix function with fashion and they produce a gift most college students wouldn't think of buying for themselves. Not sure what a glitten is? I didn't know either. A Glitten is a fingerless glove that converts into a mitten. It's perfect for texting while walking across campus.
Cancer Patient
These alpaca blend hats are handmade to support cancer patients who are undergoing chemo treatments. They are warm and stylish, but more importantly, they are made with love by Michigan women who want to support other women as they pursue better health. We also offer warm alpaca socks that have support for cancer survivors.
Crafter and Creative
It's hard to find high-quality 100% alpaca yarn, felt, and roving. Big retailers don't carry it and the small farms that do offer it make it difficult to purchase. We like to think we are different. We offer an ample supply of alpaca roving, felt, and yarn. Our yarn comes in a variety of weights (fingering, sport, DK, worsted) and grades (royal, baby, superfine).
Diabetic
Therapeutic alpaca socks are a great gift for the diabetics in your life. They are super warm, but also light and not binding. They offer ample warmth without sacrificing comfort and health.
Eco-friendly, Nature Lover
Alpaca gifts are perfect for a friend or family member who loves nature and is eager to protect our environment. Alpacas are eco-friendly by default. Alpaca hooves are softly padded which reduces their environmental impact. Alpacas produce more fleece than sheep, while also serving as very efficient eaters, which greatly reduce their environmental impact. Eco-friendly gifts for the alpaca lover include fun items like nesting balls or dryer balls, as well as socks to keep you toasty warm during outdoor adventures.
Fashionista
Your favorite fashionista will love the warm and super soft apparel. A fashionista will crave baby alpaca products for their luxurious feel and beautiful appearance.  Scarves, fur hats, and sweaters should all be on the gift list of your alpaca lover.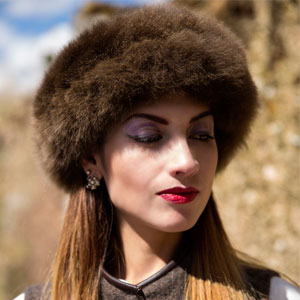 Girlfriend or Wife
It can be tricky to purchase clothing for your wife or girlfriend. Trust me – I know. It's not something my husband will do often. But that said, there are some safe alpaca gift options for the women in your life. Alpaca mugs, throws, Christmas ornaments, or beautiful thick rugs are all excellent gift options.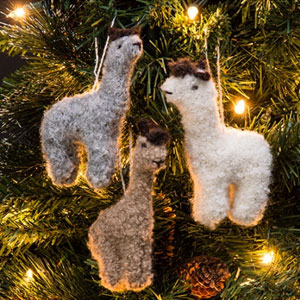 Grandma
Grandmas love all things alpacas! I have a few that are frequent visitors to the farm and store. They enjoy feeding our alpacas, taking selfies with them, and they never leave empty-handed. There is always something fun they want to take home. If you're shopping for Grandma, consider yarn, handmade shawls, a cute glass case, llama magnets, or even a ceramic planter.
Horse Lover
The horse lover you know will love alpaca saddle pads. Our horse saddle pads are made from Michigan-raised alpaca fiber. They offer natural colors with leather trim. Alpaca saddle pads are hypoallergenic, dye-free, chemical-free, and eco-friendly. We have saddle pads available online and many more waiting for you in our farm store in Thompsonville.
Hunter
If you're looking for a cool present for that hunter in your life, consider orange fingerless gloves or super thick alpaca socks. Both are designed to be functional in a luxury way. Alpaca wicks away moisture, it is three times warmer than sheep's wool, and it repels outside water naturally. It's perfect for long days hunting in fall and winter.
New Parent
Our retail store always shows which visitors have new babies in their lives. They swoon all over the baby hats and booties that are handmade by Aunt Diane. They also love the cute toddler dish sets that we offer. The dish sets are made from bamboo, so they are cute and eco-friendly.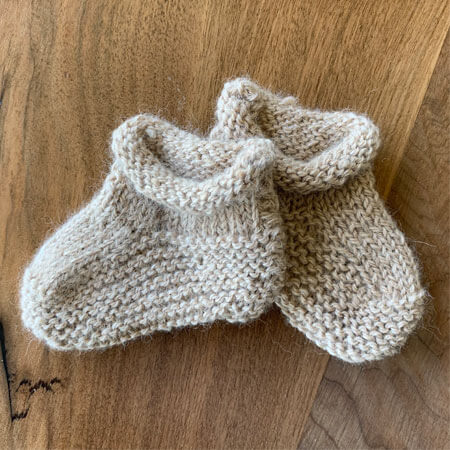 Professionals
Not sure what to get that business professional that has everything? You're not alone! Opt for some alpaca dress socks or a shawl to keep them warm at the office.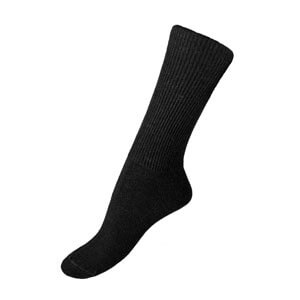 Raynaud's Suffer
I suffer from Raynaud's Syndrome and it has limited my ability to stay outside for long in winter. Then I met my alpaca friends and life changed for the better. My favorite alpaca products include fun alpaca herd socks and big, fluffy alpaca mittens. Both keep my bright white fingers warm, the right color, and free from pain.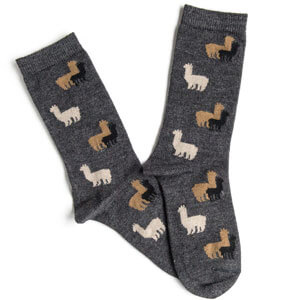 Sports Enthusiast
The outdoor sports enthusiast will love alpaca ski socks for their ability to keep feet warm and dry. Our local skiers also love Grandma Lil's 7" headbands, because they keep you warm while allowing for ample space to accommodate ponytails and various other hairstyles.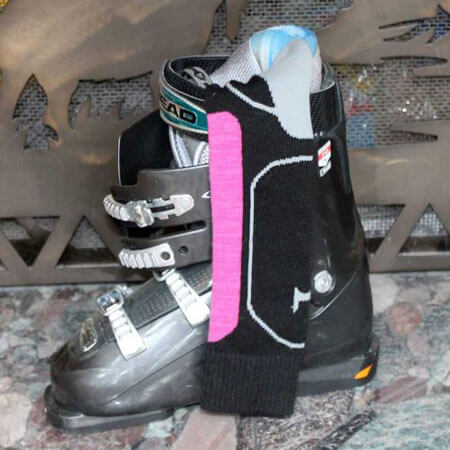 Traveler
Whether you're a business traveler or a digital nomad, alpaca ponchos and lightweight socks will be your friend. They'll effortlessly transition from the airplane to your travel adventures and keep you in style along the way.
Young Girls
Young girls love alpacas and I have made every attempt possible to keep fun gifts available for them. From stuffed alpacas and our farm's custom alpaca coloring book to llama Barbie and traditional Andean dolls, we have lots of great gifts for the young lady in your life.
Young Boys
While lots of young boys also love a plush alpaca, many opted for alpaca and llama games that include spitting and pooping. Yes, there are alpaca and llama games for both. We have lots of games for the young men on your Christmas shopping list.
Bonus Gift Guide: Stocking Stuffers
Pens, magnets, scrunchies, sticker packs, erasers, cookie cutters, and all-natural soaps all make excellent stocking stuffers. Pencil cases, necklaces, lip balm, and wall stickers add even more fun.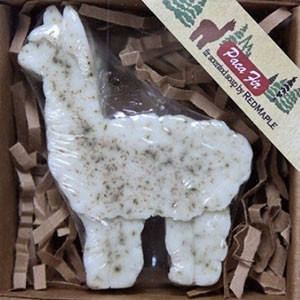 Need Help Shopping?
If you're still not sure which alpaca gift is right, I encourage you to head on into our farm store in Thompsonville, Michigan, or browse through our online alpaca store. I'm happy to help make suggestions, so feel free to send in an inquiry or drop a comment below.