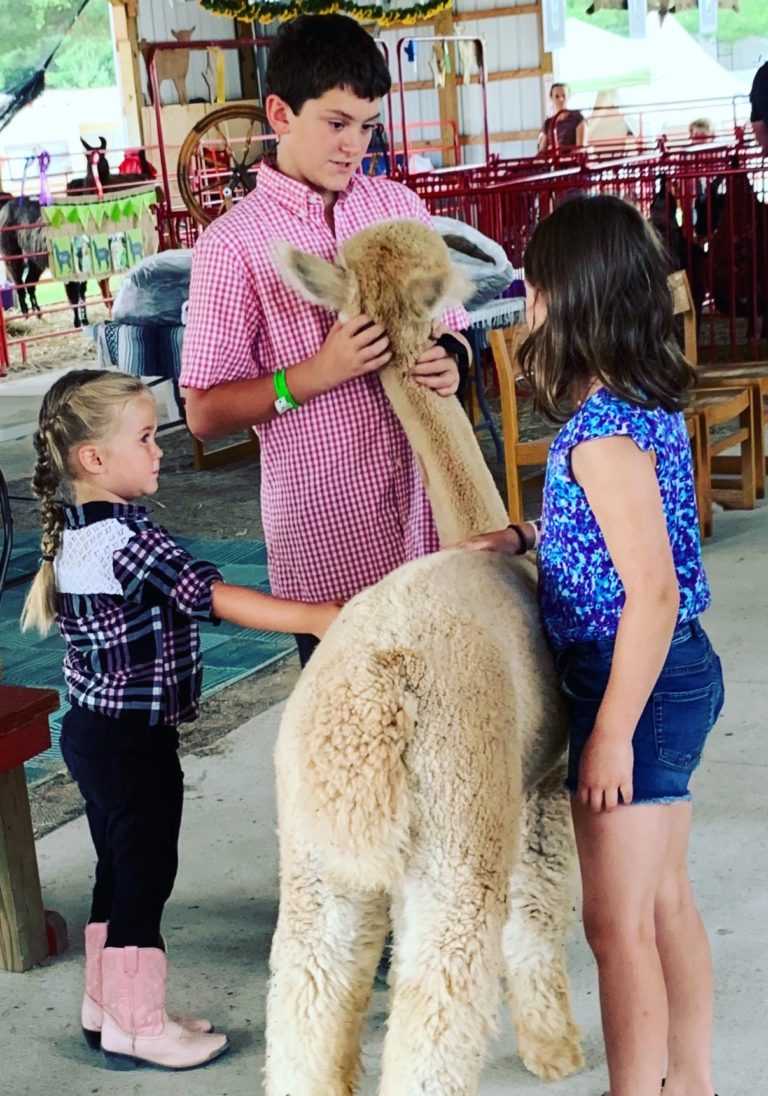 4-H is the largest youth development organization in Michigan and it provides more than 200,000 young people with experiential learning opportunities to explore new interests and discover their passion.
We believe 4-H should not be limited to youth who have the privilege to live on a working farm. 4-H should be available to all those who want to participate regardless of their location or economic status.
As part of our ongoing effort to give back to the community in which we live, we open our farm and alpacas to extend the reach of 4-H participation within the Grand Traverse area. We are active members of the Northwest Michigan 4-H Livestock Council's Llama and Alpaca group.
We welcome and encourage participation from youth of all ages. We also welcome youth that are part of Northwest Michigan 4-H Livestock Council's Differently Abled Program. We will do our part to make sure our 4-H group is inclusive and that everyone experiences a program that encourages, nurtures, and supports them.
4-H is not about the animal. 4-H is about creating and fostering an environment that allows kids to grow through learning and experiencing life through their livestock. Alpacas have an amazing ability to help nurture that growth.
Learn More About the Grand Traverse 4-H Program for Alpacas
4-H Objectives:
4-H members enjoy alpacas as they learn their history, care, and training as they become responsible for the alpaca's physical, nutritional, and mental health needs.
4-H youth develop life skills such as communication, citizenship, decision-makin~ leadership, interpersonal relations, and community and global awareness.
4-H youth become the best they can be through sharing, learning, and growing.
How Non-Alpaca Owners Can Still Participate:
An alpaca may be owned or leased by a 4-H'er, and owned alpacas kept at the 4- H member's farm or ranch.
If available, alpacas may be borrowed or leased from the leaders or other farms willing to lend them but kept on the leader's farm during the 4-H season.
Two 4-H members in different age divisions may share an alpaca for the 4-H season.
The 4-H'er is expected to respect the dignity and personality of the alpaca and treat it with gentle kindness.
Club meetings should generally be held monthly from September through June and increase to weekly from June until the 4-H fair.
All 4-H members need to allocate extra time the week before and during their fair for the preparation and display of their alpacas.
Fees that will cover the material cost (books, tack, feed, etc.) will be decided upon yearly by the leaders and are due at the first meeting of each year. These are not to be confused with club dues which are voted on by the members.
All youth members are required to sign a 4-H Code of Conduct.
Obligations of Participating Youth Members:
Read and sign a participation contract.
Participate in fundraising activities to help support our group and the cost of care for the animals used by the 4-H group.
Participate in monthly meetings.
Proactively educate yourself on alpaca care, behavior, and how you can positively influence your relationship with the 4-H alpaca herd.
Participate in weekly training sessions (in months leading up to the fair) to build trust with your alpaca and to work on preparing your alpaca for the 4-H fair and activities.
Perform daily barn duties at the fair so that our alpacas have a clean and healthy fair environment, receive exercise, and they are supervision at all times the barn is open to the public.
Considerations for Parent and Youth:
We have a waiting list of families who would like to participate in our group. Our objective is to support as many youths as possible so that everyone has a chance to participate. If you or your child wishes to participate, you must adhere to the obligations set forth by the group leader and listed above.
While the 4-h fair is a summer activity, we will have fundraising activities that take place throughout the year. Participation will require you to be active in these events.
If you live in Grand Traverse county and you would like to become a member of our 4-H alpaca group (Farm and Fleece), please reach out to us and let us know.