Over the last week, I've discovered three different instances of alpaca sales scams using our photos and pretending to be our farm. One scam I found, one scam my husband found, and one scam a lovely lady I don't even know found and took the time to alert us of it.
The below photo is one example of someone using our alpaca farm photos and trying to scam people on Facebook. It was reported to Facebook and no action was taken. The scammer deleted our comments so people won't know it is fake. It's frustrating for me and everyone else in our industry.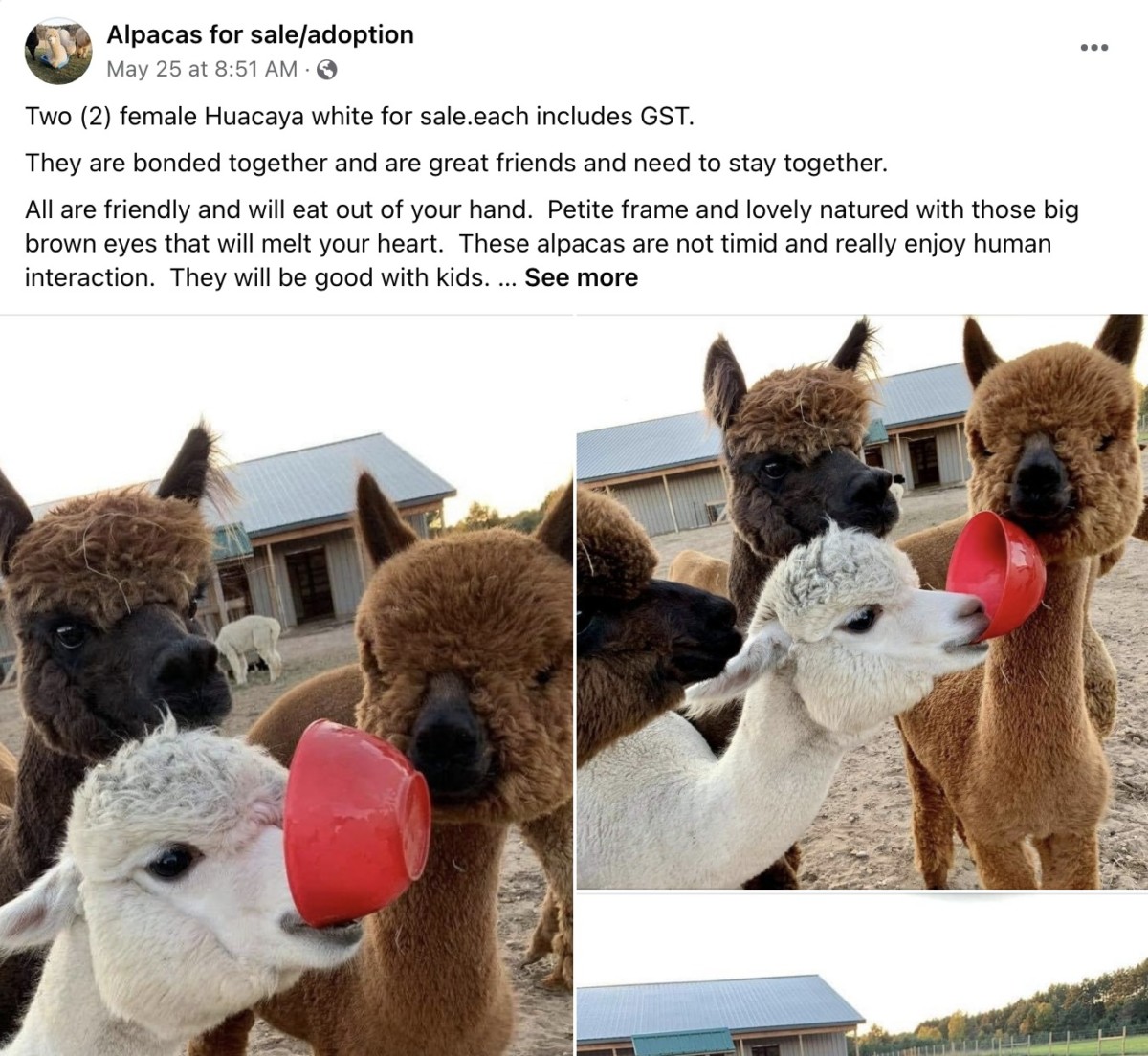 While the alpaca industry is 100% legit, there are many online scammers using our farm names, photos, and social media profiles to scan innocent and well-intentioned buyers.
If you are considering purchasing an alpaca online, know it is buyer beware. You have to do your due diligence or you will be scammed out of your money.
How the Typical Alpaca Scam Plays Out
Someone sets up a fake Facebook account or Craigslist profile.
They take real photos from legit alpaca farms and use them on their Facebook pages, group posts, or they send them in private messages.
The scammers will reach out to potential buyers via Facebook Messager so the conversation is private.
The fake seller will present an amazing offer and they'll claim their alpacas are super sweet, adorable babies, and at a cost lower than market price.
The scammer will claim others are interested and they'll require the buyer to transfer a deposit to hold the alpaca.
Once the money is transferred, the scammer will disappear.
When the buyer tries to contact the seller, the seller will block the buyer or close the Facebook account.
And sadly, Facebook is doing absolutely nothing to help this situation. It lets it happen again and again. Every time we find something hinky, we report it, and then receive a Facebook message or email that says the account doesn't violate their policies.
But yes, it does violate all of Facebook's policies. It's a fake account, that is offering false information, and it is scamming good people and causing financial harm.
Here is How You Can Spot an Alpaca Sales Scam
Compare the Facebook profile's URL and name. If they don't match, it's probably a scam.
Carefully review the photos. Are the alpacas in different looking barns or standing in front of different fencing? Since most farms will have consistent looking shelters and fencing, this is a good way of spotting a scam. You'll normally see five photos with five different fencing styles. That isn't realistic and this means they've stolen photos from other farms.
Know the market rate of alpacas and don't expect a special deal. Right now, alpacas are in demand, which means inventory is low. You won't find a super cheap alpaca that is heathy, young, adorable, and sweet for $250 or $500. This is especially true if it is a breeding female. Breeding females are at least $2,000-$3,000 and many times they are more like $5,000.
Question the age of the alpaca. Quality breeders won't sell babies to brand new farms. We tend to sell no younger than a year and they need to go with buddies to limit their stress. We've bought six months old alpacas, but we bought three six-month-old girls who were all friends and could easily transition together.
Don't ask for a bottle baby. No alpaca breeder wants a bottle baby. It's a lot of work, it interrupts their required nutritional intake, and it negatively impacts their socialization. Bottle babies are the last resort to keeping an alpaca alive. And if we do have to bottle feed a cria (baby alpaca) we won't be offering it up for sale until it is a healthy alpaca that can live without the bottle.
Question someone selling a breeding pair. Alpacas need to live with same sex alpacas and in a herd of at least three alpacas. Males and females cannot live together in the same fencing and shelter. The female anatomy cannot manage frequent breedings. Reputable breeders know this and will never sell a breeding pair or a sister/brother combo.
Expect the seller to qualify you harder than you qualify them. A reputable alpaca breeder will ask you a lot of questions and they will want to make sure their alpaca is going to the right environment. I qualify potential alpaca buyers hard, I watch for red flags, I have buyers complete a questionnaire, and I require proof of shelter and fencing if I cannot visit the destination farm in person. I turn away about 95% of the inquiries we receive because the buyer hasn't done enough research or isn't prepared to raise alpacas in the environment needed. I do this because I love my alpaca and I want them to go to good homes.
Ask a lot of questions. As the buyer, you should ask a lot of questions about the alpaca you want to purchase. What is their birth date, who is their dam and sire, what type of personality do they have, what quality is their fiber, etc.
Validate the farm with the AOA. Is the farm an Alpacas Owners Association member? Does the AOA have any information on them?
Look up the farm name in their state's business registry. A lot of farms are registered as Limited Liability Companies (LLCs) and they will have a public record with the state. If they are a valid LLC, they'll also have an Employer Identification Number (EIN) with the federal government.
Validate the alpaca is in the AOA registry. We register all our alpacas, and we provide potential buyers with ARI numbers and ARI certificates so they can validate their potential purchase with the national association. If the alpaca is younger and we haven't registered them yet, we provide AOA registration details on the sire or dam so they can be registered.
Require a contract before funds change hands. We provide a multipage contract and an invoice for all sales. This provides a clear paper trail of ownership and payment, as well as, clear expectations of the conditions of the sale.
Visit the seller's website and look for red flags. One of my favorite red flags is a scammer who publishes a website in USA dollars, but lists VAT (European taxes). In the United States, we have sales tax and we do not collect VAT. A true USA farm would know this, but a scammer in Nigeria would not.
Visit the farm prior to money changing hands. While we've sold alpacas all over the country, we love selling local so we can meet people face to face and provide ongoing mentorship. We've also bought alpacas from states away and have taken multiple days to drive to New York to review alpacas, spend time with the sellers, and see the farm in person prior to purchase. A good, reputable farm will welcome visits.
Where Can You Safely Buy Alpacas?
If you are serious about purchasing a new alpaca herd, only purchase from established alpaca farms. You can easily find these farms if you look in the right locations.
Here is a list of where you find legit alpacas to buy:
Alpaca Owner Association Members – https://www.alpacainfo.com/search/farms
Alpaca Association of Michigan – https://mialpaca.com/
Alpaca Association of Western Washington (AAWW) – http://www.alpacawa.org/
Alpaca Breeders of Arizona – www.alpacabreedersofaz.org
Alpaca Breeders of The Rockies – www.alpacabreeders.org
Alpacas of Oklahoma – www.alpacasofoklahoma.com
California Alpaca Breeders Association – www.calpaca.org
Carolina Alpaca Breeders and Owners – www.carolinaalpacafarms.org
Columbia Alpaca Breeders Association – www.columbiaalpacabreeder.com
Empire Alpaca Association – www.empirealpacaassociation.org
Georgia Alpaca Association – www.georgia-alpaca.org
Grand Canyon Alpaca Association – https://www.grandcanyonalpaca.org/
Great Lakes Alpaca Association – www.greatlakesalpaca.com
Illinois Alpaca Owners and Breeders Association – www.iaoba.com
Indiana Alpaca Association – www.indianaalpaca.org
Intermountain West Alpaca Association – www.facebook.com/IMpaca
Kentucky Alpaca Association – www.kentuckyalpacaassociation.org
Maryland Alpaca Breeders Association – www.marylandalpacas.org
Mid-Atlantic Alpaca Association – www.mapaca.org
Midwest Alpaca Owners & Breeders Association – www.mopaca.org
New England Alpaca Owners & Breeders Association – www.neaoba.org
New Jersey Alpaca Community – www.njacalpacas.org
North Sound Alpaca Association – www.northsoundalpacas.org
Pacific Northwest Alpaca Association – www.pnaa.org
Pennsylvania Alpaca Owners & Breeders Association (PAOBA) – www.paoba.org
Southeastern Alpaca Association – www.sealpaca.org
Tennessee Alpaca Association – www.tnalpaca.org
Texas, Oklahoma, Louisiana, Arkansas, New Mexico Alpaca Association – www.txolan.org
The State of Jefferson Alpaca Association – www.sojaa.net
The Suri Network – www.surinetwork.org
Virginia Alpaca Owners & Breeders Association – www.vaoba.org
West Virginia Alpaca Organization – www.wvao.net
While not all of these farms will be established, it will provide the best options for finding healthy alpacas for your farm.
Research, Research, Research
Before you start looking for alpacas to buy, do extensive research!
We recently sold four alpaca boys to Vanessa in Alabama, and I allowed it because Vanessa did all the right research. She bought books, visited farms, went to AOA approved shows, and she knew what she wanted. She was vested in the process and in creating a good home for her new "sugar babies".
These are the people I want to sell to because I know they'll love my alpacas as much as I do. While my husband isn't overly thrilled with driving all the way to Alabama, I said we would do it because Vanessa and her family deserve a good herd. And I don't want this lovely lady scammed by someone else.
If you take the time to research raising alpaca, you'll know what kind of alpaca you want, what you'll need to care for them, and what you need to do to prepare for their arrival. This will also help you qualify out low quality sellers that won't provide healthy (and real) animals.
Report, Report, Report
If you've been the victim of a Facebook scam, please take the time to report the profile to Facebook. The more we report fake accounts and scams, the faster Facebook will be to take corrective action.
Click here to learn more about reporting fake accounts and scams on Facebook.