We'd like to provide some farm updates for everyone as our busy season of summer is kicking off.
It's Time to Announce Our Giveaway Winner
Our winner of the alpaca goodie basket was Cassie Barrett of Union City, Michigan. We had over 700 registrations for the $500 gift basket.
Thank you to everyone who registered and made this event a fun kickoff to spring.
New Store and Tour Hours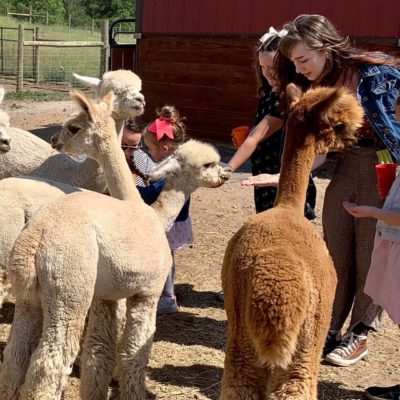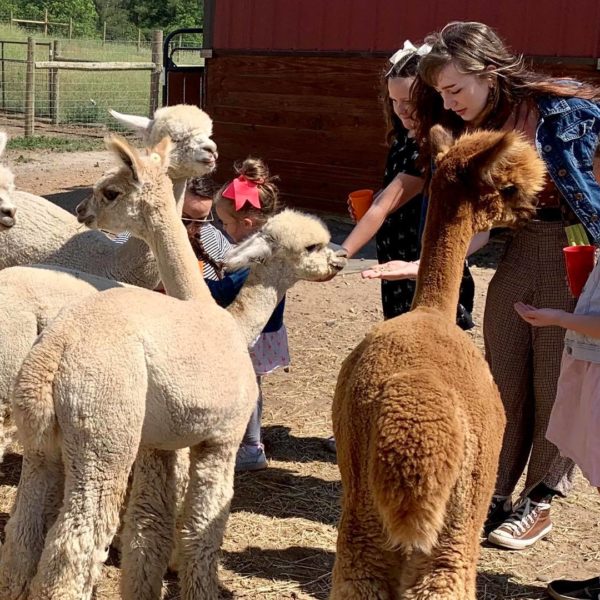 The farm is now open for the season. The store is open every Friday, Saturday, and Sunday from 10:00 am to 4:00 pm.
You're welcome to stop by and shop or feed the lady alpacas outside the store. Whenever the store is open, feed is available for purchase for $1/bag. The ladies are very eager to interact and eat their snacks out of your hands.
Interactive tours are also available at 11:00 am and 1:00 pm on Saturdays and Sundays now through the end of October. From June through August, we'll add tours for Fridays too. Tickets are only $5 for each person over 5 years of age. Capacity is limited for these tours, so we highly recommend advanced booking via the website to guarantee your spot.
If you can't make a regular tour time or you have a large group, we also offer private tours. You can book a private tour right on our website and then we'll work with you to find the best day and time for your tour.
Alpaca Shearing is Next Week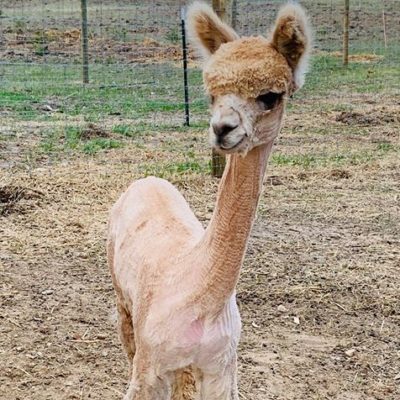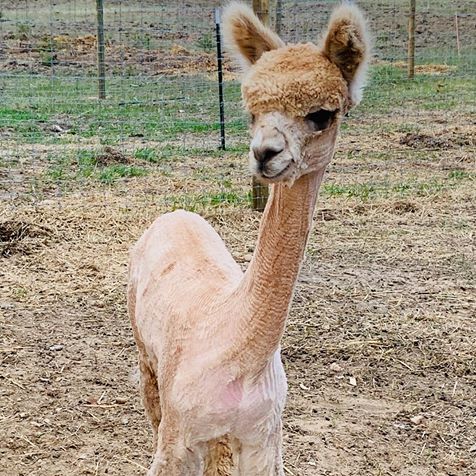 Each year we shear the alpacas in May to keep them cool in summer. This is happening on Thursday of next week.
We have a professional shearing team that comes from Montana to make sure shearing is a quick and comfortable process for our alpaca herd. While it is a daylong event, the shearing itself takes about five minutes per alpaca.
The loving team of shearers spend a lot of time in between setting up, which limits the time the alpacas spend in the shearing process. We have been extremely thankful for the professionalism and care the Topknot team gives to our herd.
Once the fiber is removed, the alpacas dance around in their newly naked bodies. They look as funny as you might imagine. This happy dance lasts for about five minutes. They then start rolling in the grass or dirt, which takes their beautiful clean fiber and turns it into a big mess. But the alpacas are happy and they'll be cool for summer, which is what matters most to us.
What Happens to the Fiber?
A lot of people ask what we do with the fiber once shearing is done. The answer is it depends.
First, we will take small samples from each fiber blanket and send it off to professional fiber testing facilities in Colorado and Australia.
This testing will tell us how fine and soft the fiber is. Every alpaca is different, so this information is very important. Once we know the quality of the fiber we will decide on usage.
The best fiber will go to fiber mills and will get turned into yarn. The finished yarn will either go for sale in our store or it will get sent to Grandma Lil, Pat, Nancy, and Kathy to get made into products like hats, headbands, mittens, scarves, shawls, cowls, and hair scrunchies.
Lesser quality yarn will go to mills and artisans to make alpaca rugs, dryer balls, and bird nesting balls.
When returned, all our yarn and products then get labeled and put for sale in our physical farm store. We have well over 1,000 items in stock and ready for purchase in both the farm store and on our website.
The Babies Are Coming!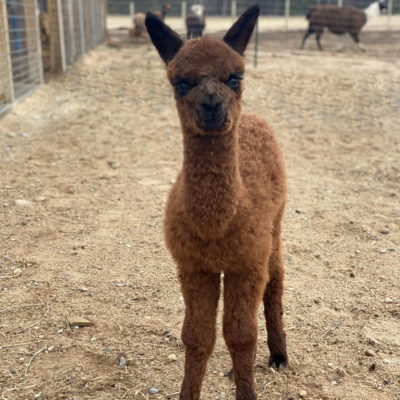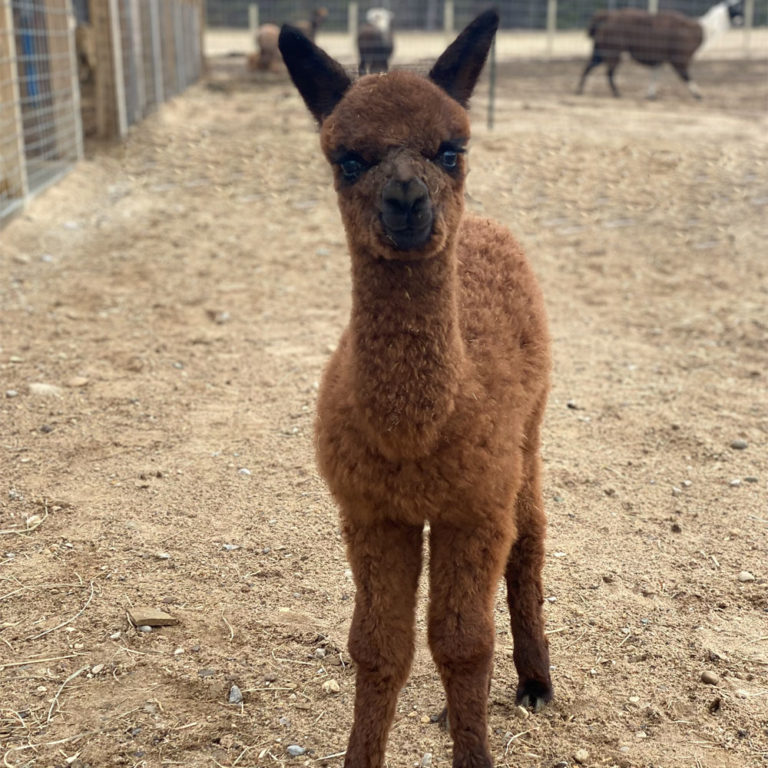 As this email goes out, we are officially on cria watch for our first batch of babies. Kalista, Dolly, and Adel are all expecting babies in the next week. They could arrive any day now, so we humans are constantly keeping watch for any signs of delivery.
Little Patrick (born on St. Patrick's Day) will be thrilled to have a friend. While he waits for someone his own size, he has befriended adults Kolette and Jalapena.
Patrick's momma doesn't realize she had a baby, so he is a bottle baby. He is super interactive and he is very eager to greet visitors when they arrive to the store.
We have 14-15 babies arriving throughout summer and into fall. If you visit the farm when a baby arrives, you might just have one named after you. But don't worry – we won't ask you to help out in the delivery.
PS: If you'd like to see who is having a baby and their due dates, you can visit the cria calendar.
4-H Farm and Fleece is Gearing Up
Jason is once again managing a 4-H group this year called Farm and Fleece. We have about 20 kids in our group. Most of our 4-H kids do not have farms and they will be using our alpacas.
We are very thankful to the community members who have supported this effort.
Organizations like GreenStone Farm Credit Services not only gave a 4-H'er a $250 check for 4-H, they also made a large purchase at Christmas time for their employee gift baskets. It is the generous support of folks like GreenStone that allow us to do community outreach with the 4-H program.
And Now, Onto Summer!
We opened our farm to the public last April and we estimate we had about 7,000 people come through the farm in 2021. It was an amazing opening year!
But more importantly, we met some wonderful and memorable people along the way. Our hearts were filled with the friendships we made and the happiness the alpacas brought to visitors.
We cannot wait to have another summer of guests and alpaca fun!